Hi.  A friend challenged me to a picture writing exercise and I wanted to share it.  The idea is to find a picture and tell the story behind it from your perspective as a writer.  I've found it to be great practice for focusing on detail for me.
Here's the picture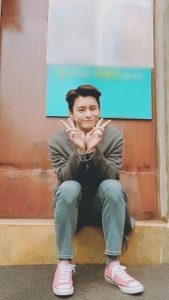 And here is the story:
Terry Chang smirked playfully and pressed his wrists together under his chin. The first two fingers on each hand flipped forward, straightening into a pair of 'V'. He held the pose as Nick struggled to get the camera working on his cellphone.
The colors behind him clashed with each other: A poster which transitioned from white to blue hung over his left shoulder on the red-orange rusted steel door, making his on grey-green sweater and slacks create a neutral transition between the two extremes.
"How do I pull it up again? This cellphone is not intuitive."
Terry chuckled as he held the pose. "It is intuitive you Luddite. Just tap the camera icon."
Nick glared at Terry's cellphone for a moment, then jabbed at the face aggressively. "Why am I looking at myself?" he grumbled.
Terry sighed, then stood up and moved over to his roommate. He sighed theatrically. "How did you ever become a physics major?"
"By not having to worry about technology. Physics is the laws of the natural universe made understandable via mathematics. Nothing in Physics has anything to do with these infernal creations."
Terry leaned to look at the screen that Nick held out. "Here's the problem, you reversed the camera choice." He reached over and tapped the screen. It flipped, showing their feet and the cement pavement.
Terry chuckled as he walked back over to the rusted steel door and sat down on the step. He brought his hands back up alongside his chin and flashed a pair of 'V' with his fingers. "Should I say cheese too?" he said with a teasing smirk.
"Got it, and got it." He clicked an additional shot then walked over to Terry and handed him the camera.
"Looks good Ter." Nick harumphed. "Despite your Luddite cameraman."
Terry grinned and looked at the picture. "It'll make a great graduation photograph. Thanks, Nicky."
In this instance, the picture generated 313 words.  🙂